12 A printer cartridge is the most used cartridge and it has some advantages. It is very reliable & gives quality printing. This cartridge is very easy to refill and a little known person can also refill toner in this cartridge. After refilling 12 A cartridges it gives the 1200 to 1400 printing pages. It can be used in the two below printers.
HP LaserJet- Models (1005, 1010,1020 ,1018,1022,3055)
Canon LaserJet – LBP-2900 B
There are two parts in 12 A printer cartridge
Upperparts – PCR, Drum, Wiper blade
Lower parts (tank portion) – Magnet, Doctor blade, Magnet Spring, two- bushes, Magnet Gear
12A Refilling Cost – 350 Rs.
Brand New Original 12 A HP Cartridge Price: 3800 Rs.
Compatible 12 A cartridges Price: 800 Rs. (Print Company)
Best 12A Toner Powders: Jet Tech, Prodot , ITDL
Tools Required in Refilling 12A Cartridge
Toner
Screwdriver
Plas
Blower
Tissue paper
Aligner
Open Upper Parts:
Open the printer cartridge drum cap
There are two screws in the cap and we will open these screws and remove the cap from cartridge
2. Remove the drum
After remove the cap we can easily remove the drum from cartridge
3. Remove the PCR
After the remove the drum we have to remove the PCR – PCR uses to give the clean print, if any problem in PCR than black spots will come in the printout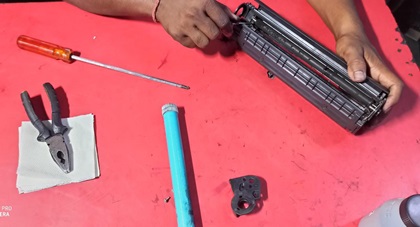 4. Remove side spring
After removing the drum & PCR we have removed the spring – If the spring is missing from the cartridge than a blank printout will come
5. Remove sides pins – there are two pins in 12 A cartridge which connect upper part and lower part of cartridge
6. Remove the drum flap
7. Remove the wiper blade – clean the drum
8. Clean waste toner from cartridge upper part
9. Reinsert the wiper blade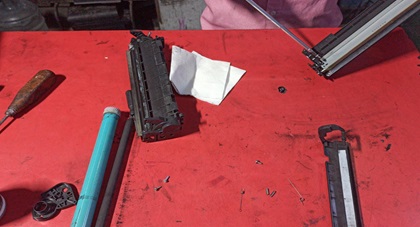 10. Reinsert the PCR
11. Reinsert drum
Lower part or tank part of cartridge
Remove the CAP: In upper part we have two screws to open the CAP.
In lower part open one screw to remove the cap from lower part
2.Remove the Magnet , bushes & Magnet Gear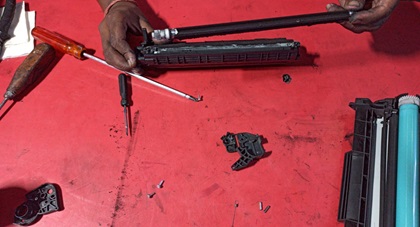 3. Clean the Tank portion
4. Refill the fresh powder in tank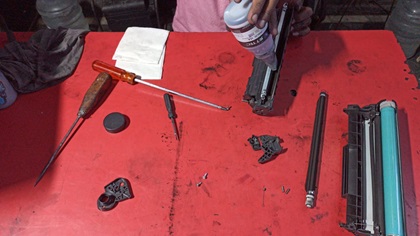 5. Clean the Magnet , gear & bushes
6. Reinsert Magnet , gear & bushes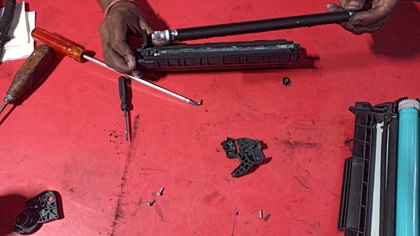 Connect the upper part & lower part or 12A Cartridge
Reinsert the two pins carefully
2. Reinsert the side spring
3. Reinsert the cap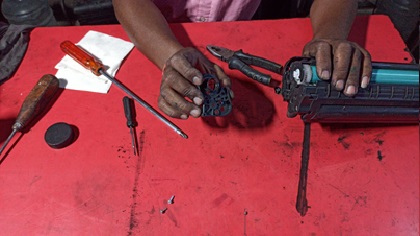 Cartridge is ready for use: